Top 10 International Fall Travel Destinations
Enjoy The Best Service and
Save Thousands
As the air takes on a refreshing chill and the leaves don their vibrant hues, autumn beckons with its inviting cosiness and awe-inspiring scenery. IFlyFirstClass extends an invitation for you to embark on an opulent voyage to some of the world's most enchanting global autumn destinations.
Embark on an Enchanting Autumnal Escape with IFlyFirstClass: Top 10 International Fall Travel Destinations
As the air turns crisp and the leaves begin their vibrant transformation, autumn beckons with its allure of cozy charm and breathtaking landscapes. IFlyFirstClass invites you to embark on a luxurious journey to some of the world's most captivating international fall destinations, where the beauty of the season unfolds in all its splendor.
Kiyomizudera Temple in Kyoto, Japan during fall
Kyoto, Japan: Immerse yourself in the enchanting hues of autumn as you stroll through ancient temples and serene gardens adorned with fiery maple leaves. The iconic Kiyomizu-dera Temple, nestled amidst a vibrant forest, provides a stunning backdrop for autumnal contemplation.
Neuschwanstein Castle in Bavaria, Germany during fall
Bavarian Alps, Germany: Nestled amidst the majestic peaks of the Alps, Bavaria exudes a fairytale-like charm in autumn, with its quaint villages, enchanting castles, and the world-famous Oktoberfest celebration. Neuschwanstein Castle, perched atop a hill overlooking a tapestry of colorful foliage, embodies the romantic spirit of the season.
Ulsanbawi Rock in Seoraksan National Park, South Korea during fall
Seoraksan National Park, South Korea: Immerse yourself in the breathtaking scenery of Seoraksan National Park, where towering peaks, cascading waterfalls, and vibrant foliage create a mesmerizing autumnal panorama. The park's iconic Ulsanbawi Rock, surrounded by a sea of golden leaves, offers a panoramic view of the autumnal spectacle.
Edinburgh Castle in Edinburgh, Scotland during fall
Edinburgh, Scotland: Discover the captivating charm of Edinburgh in autumn, where ancient castles, cobblestone streets, and the vibrant hues of the Royal Botanic Garden create an unforgettable atmosphere. The view from Edinburgh Castle, overlooking the cityscape adorned with autumn colors, is a sight to behold.
Plitvice Lakes National Park, Croatia during fall
Plitvice Lakes National Park, Croatia: Explore the enchanting beauty of Plitvice Lakes National Park, where cascading waterfalls, turquoise lakes, and lush forests painted in autumnal colors create a mesmerizing natural wonderland. The wooden walkways winding through the park offer a unique perspective of the vibrant foliage.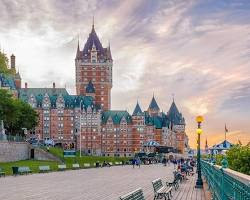 Terrasse Dufferin in Quebec City, Canada during fall
Quebec City, Canada: Embrace the vibrant colors of fall in Quebec City, where charming cobblestone streets, historic architecture, and the aroma of maple syrup fill the air with autumnal delight. The view from the Terrasse Dufferin overlooking the St. Lawrence River and the city's autumnal hues is truly breathtaking.
Val d'Orcia in Tuscany, Italy during fall
Tuscany, Italy: Indulge in the rustic beauty of Tuscany, where vineyards draped in golden foliage, medieval towns perched on hilltops, and the warmth of Italian hospitality create an unforgettable autumnal experience. The rolling hills of the Val d'Orcia, dotted with cypress trees and vineyards, epitomize the picturesque Tuscan landscape.
Lake IssykKul in Kyrgyzstan during fall
Kyrgyzstan: Embark on an adventurous journey through the Tian Shan Mountains of Kyrgyzstan, where alpine lakes, snow-capped peaks, and valleys painted with autumn colors offer a mesmerizing spectacle. The pristine alpine scenery of Lake Issyk-Kul, surrounded by golden foliage, is a must-see destination.
Riffelsee lake with Matterhorn reflection in Zermatt, Switzerland during fall
Zermatt, Switzerland: Discover the enchanting beauty of Zermatt, a car-free village nestled amidst the Swiss Alps, where the Matterhorn towers over a landscape ablaze with autumn colors. The reflection of the Matterhorn in the serene Riffelsee lake, surrounded by vibrant foliage, is a sight to behold.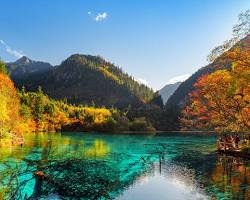 Five Flower Lake in Jiuzhaigou National Park, China during fall
Jiuzhaigou National Park, China: Journey to Jiuzhaigou National Park, a UNESCO World Heritage Site, where crystal-clear lakes, cascading waterfalls, and forests ablaze with autumn colors create a magical panorama. The park's Five Flower Lake, with its vibrant hues reflected in the still waters, is a mesmerizing sight.
With IFlyFirstClass, you can elevate your fall travel experience to new heights of luxury. Our exclusive business and first-class flight deals will transport you to these captivating international destinations in style and comfort. Our dedicated travel experts will curate a personalized itinerary tailored to your preferences, ensuring an unforgettable journey filled with autumnal splendor.
Contact IFlyFirstClass today and embark on...